Nearly 70% of HR leaders report that their employees are worried about getting infected by an unvaccinated colleague; nearly 25% report having employees who refuse to come back to a workplace at all. That's according to a Gartner poll of HR leaders conducted on July 28.
In the mere week since, organizations of all types and sizes have stepped up policy statements designed to protect employees in response to the Delta variant surge. U.S. President Biden announced that all on-site federal employees and contractors must be vaccinated or face strict testing, social distancing and masking requirements. Numerous private companies, including Google, Facebook, Twitter, Walmart and Tyson Foods, have announced vaccine mandates. CNN reportedly terminated three employees for coming to the office when unvaccinated — a violation of company policy.
Every organization is — and certainly should be — asking: When should we return employees to offices and other work locations? Should we close offices we've already opened? Should we mandate vaccines?
Download Guide: Return-to-Workplace Playbook for HR Leaders
These are fair questions, but as I've told clients in recent days, they are still just one piece of what organizations have to decide, say and do right now. As was the case from the earliest days of the COVID-19 pandemic, the decisions you make now will define, perhaps forever, how employees, customers and prospective talent perceive your company.
In some senses, then, the guidance hasn't changed: Your focus must be on employee health, welfare and safety. That requires flexibility and empathy, and a willingness to regroup and retrace back-to-work decisions as circumstances change. But it is helpful to keep taking a pulse on employee sentiment, which we do regularly by polling HR leaders on what they're hearing from their workforce.
This data can help you understand how your decision making compares to that of your peers — not necessarily to compel you to do what others are doing, but to understand how the broader landscape is changing. Here's more of what we learned through our July 28 poll of more than 70 HR leaders* around the world.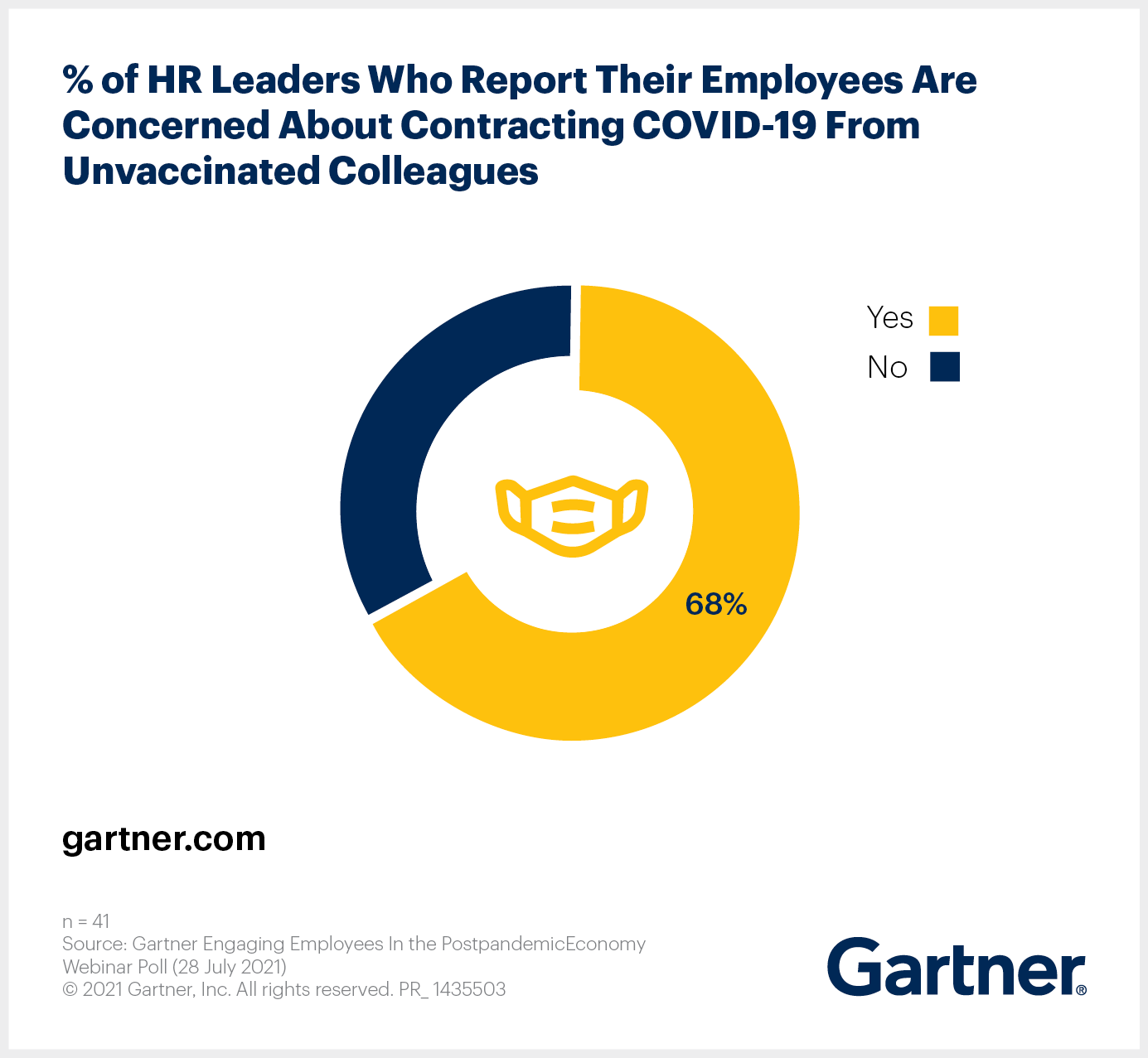 Finding No. 1: The Delta variant is scaring employees
76% of HR leaders reported that their employees are hesitant to come back to the workplace, while 24% reported that employees are refusing to come back.
68% said that their employees are worried about getting infected by an unvaccinated colleague.
Finding No. 2: Workplace reopenings are slowing
Some companies that had been accelerating their return to the workplace are backtracking. About 1 in 10 that planned to reopen their offices in the third quarter of 2021 have now pushed back their reopening date to sometime in 4Q. This isn't the first time this polling series has revealed a pushback in reopenings.
Read more: 10 Questions for an HR Pandemic Plan
Finding No. 3: Workplaces that are reopening may close…again
Even companies that have opened up worksites are reconsidering. Seven percent of HR leaders report their organization has closed a workplace after reopening it, and among organizations with open locations, 28% have decreased the number of people allowed in the workplace.
Finding No. 4: Organizations are dialing back efforts to encourage vaccines
Just 16% of HR leaders report that they are providing employees with resources on where and how to get vaccinated, down from 29% in June. Compare that to a similar poll in December, in which 60% said they would provide these resources once vaccines became available. At this point, organizations seem to be letting governments and other vaccination initiatives take the lead.
Finding No. 5: More organizations are mandating vaccines, but they're still very much in the minority
Fewer than 10% of HR leaders say their organization is planning to or already requires vaccination, but that number was just 2% during our polling in February. In our December poll, less than one-third of HR leaders said they believed it to be ethical to mandate vaccination against COVID-19, and only 3% said they would require employees to show proof of vaccination as a condition of returning to the workplace.
*Seventy-one HR leaders attended, but not all leaders responded to all questions.